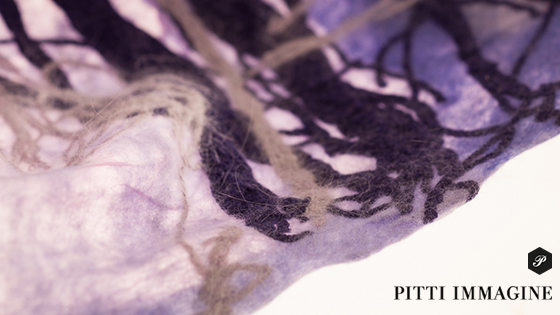 Knit Point to participate in Pitti Immagine Uomo and Pitti Immagine Filati in Florence
Angela Cappi will introduce her 2015/2016 trend book to the most important international showcase for men clothing and to the referential appointment for the yarns and knitwear field.
Her creative grandeur will make it through the newest trends in international lifestyle and among the excellence in spinning.
Her "Fantasie di favole naif", for example, one of the main themes of the latest 2015/2016 release of Knit Point, is so cut out for this year edition of Pitti Immagine, an edition shaped by the concept of color.
The use of color has always defined belonging to some social, cultural or subcultural group. In fact, "Made In" will be the title and main theme for the next Pitti Immagine Filati, a strong reference to tradition and handcrafted creations.
Angela Cappi will take her own path among the Pitti Immagine 10 mood directions, letting her typical Made in Italy shine and shaping shades and environments in a very personal and exclusive way. Warm and bright hues tied to undergrowth colors. Camaieu, camouflage, jacquard naia, yarns with patterned features in structure and color.
Here's how "Made In" becomes affinity to an experience, to a project, to a group of people who share something deeply special.